Turns your work into pleasure
The Impuls CVT is your reliable partner for many different jobs: whethers it's farming, transportation, or industrial challenges, its three models from 150 to 180hp are technical masterpieces as well as economical choices. First class operating comfort to reduce fatigue, and intelligent engineering and S-Control™ CVT transmission to bring power to the ground without interruption of traction - it turns your work into pleasure!
The Impuls CVT delivers the lot
Explore the product
The IMPULS CVT cab offers a working area you can rely upon fully in all situations: A low noise level of only 69 dB(A), ergonomic seating and steering wheel adjustments, finely adjustable air conditioning and our sophisticated suspension and lighting system assure maximum comfort.

With its 4-pillar panorama cab with its large windows, its high-visibility roof window and a one piece front windscreen, you have perfect and unrestricted all-round visibility. The LED work light package assures superlative visibility even after night has fallen.

The electronically controlled diesel engines effortlessly take care of all power work even at low engine speeds. The IMPULS CVT range today covers a rated power range of 150 to 180 hp. The main working area of the engine, between 1,500 and 1,900 rpm is always able, thanks to PowerPlus, to deliver an extra up to 45 hp of additional power at all times.

Everything always runs smoothly with the continuously variable S-ControlTM CVT transmission (Continuously Variable Transmission). An intelligent interplay of hydraulic and mechanical components assures economy, without having to compromise on power delivery. The continuously variable ratio enables you to tackle every conceivable task effortlessly.

The PTO transmits the full power of the engine with maximum efficiency because the entire driveline is tapped from the face end of the crankshaft. The standard speed of 1,000 rpm is already reached at a low engine speed of 1,890 rpm. That means you not only save fuel, but also protect the engine and the environment.

The load sensing hydraulic system in the IMPULS CVT is based on a variable displacement pump with a flow rate of up to 166l/min. Up to 8 independent consumers can be supplied with oil at the same time. The displacement volume and duration can be adjusted individually for each consumer. This guarantees excellent response from all of the consumers.

IMPULS CVT: The modern way of driving a tractor. All models are fitted with wet dual disk brakes (4 disk brakes on the rear axle). Specifically in heavy-duty transport, these HD brake discs, being more resistant to wear, deliver a longer service life. The perfect interplay of all components ensures a unique new-generation driver experience.
INNOVATION
Precision Technology
Working more efficiently

Build your own
Find your perfect STEYR in a few steps with the Configurator. Build the STEYR you want and select the options that will make it perfect for your daily operations.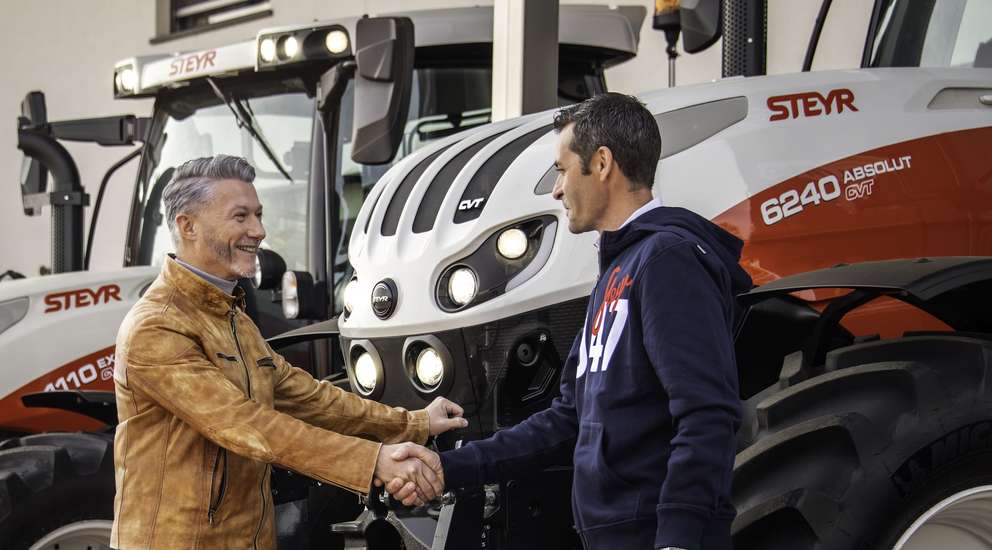 Services
Service solutions for your farming
From the very first stages of every model's development, we think about how best to provide aftersales services for your STEYR product.
Engine

Number of cylinders

Type

Emission Level

Capacity (cm³)

Engine Performance

Standard Transmission

Optional Transmission 1

Optional Transmission 2

Power Take Off

Front PTO and hitch

Drive and Steering (Driveline)

Hydraulic System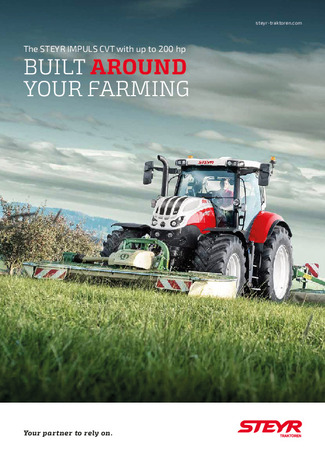 STEYR IMPULS BROCHURE
4.08MB