Advanced connectivity made in Austria
With its choice of three models, from 288 hp to 340 hp, the Terrus is predestined for rapid transport duties as well as for heavy-duty field work. But it also offers you exceptional levels of comfort: a suspended front axle combined with a luxurious and remarkably quiet cab make work a relaxed and fatigue-free activity. Also on board: the very latest technologies S-TECH Precision farming, S-GUIDE automated steering system, S-TURN II automated turning, ISOBUS III and Easy-Tronic II headland management system, as well as S-FLEET telematic solutions.Straight ahead.
Connected in every aspect
Explore the product
The slimline bonnet provides optimum visibility over the front working area. Also at the rear, for effortless attachment of implements, the TERRUS CVT provides clear visibility of the coupling points. With the large, electrically adjustable and heated telescopic mirrors with wide-angle insert, you can even keep an eye on wide attachments. The new semi-active cab suspension provides a premium comfort and driving experience by effectively smoothing vibrations and counteracting the tractor cab ensemble's pitch and roll. A LED lighting package assures superlative visibility after dark.

There is always a lot to do for you and your staff. So we thought about how we could make your life easier. The result is the innovative Multicontroller III armrest with Infomat 1200 touchscreen monitor, which allows you to quickly reset your preferences when you change operator, type or workstation.

Up to 340 hp power used most intelligently. The engines in the TERRUS CVT models are all the best in their class. Here, profitability, productivity, environmental preservation and ultra-modern energy management come together in perfect symbiosis. By virtue of the unique HI-eSCR2 exhaust gas after-treatment system, fuel consumption is optimised and power and engine response are improved. Optimum fuel injection time without exhaust gas recirculation means neither the engine nor the cooling system are overloaded. This makes maintenance intervals of 750 a reality.

Individually set-up your S-Control™ CVT transmission settings according to your operation. Maximum torque with minimum fuel consumption, electronic control that permits even faster changes in direction and active stationary control to stop safely on a steep gradient: the continuously variable S-Control™ CVT transmission is a leader in comfort and efficiency.

The STEYR front linkage has a lift capacity of 6,016kg for the biggest of front mounted implements. The 2-speed front PTO option offers 1,000 and 1,000E rpm speeds. Those are achieved at an engine rpm of 1,886, the optimum range for power, and at 1,585 rpm for best efficiency. Attaching an implement is made safer and easier via easy-to-access remote hitch switches, and the optional camera provides an in cab view of the implement at work.

The loadsensing hydraulic system of the TERRUS CVT is based on an axial piston variable displacement pump with an oil delivery rate of up to 220 l/min. Up to 8 independent valves can be supplied with oil at the same time. The delivery rate and duration can be set individually for each electrical remote valve. This guarantees an excellent response behavior for all connected implements.

The TERRUS CVT series offers the most complete braking system on the market with S-BRAKE trailer braking systems. All the models are equipped with wet dual disk brakes (4 disk brakes on the rear axle). The more wear-resistant HD brake disc offers a longer service life, especially with heavy transport. With the patented advanced trailer brake system STEYR S-Brake you remain confident even in difficult situations.

Premium tractors deserve premium cares. STEYR products and services are available and operating 24/7. Now and ever. The new TERRUS CVT comes also along with the unique STEYR S-TECH PROTECT Service package: the all-inclusive package that groups together the very best of STEYR workshop, field and remote services to deliver maximum equipment uptime.
INNOVATION
Precision Technology
To keep your business ahead

Build your own
Find your perfect STEYR in a few steps with the Configurator. Build the STEYR you want and select the options that will make it perfect for your daily operations.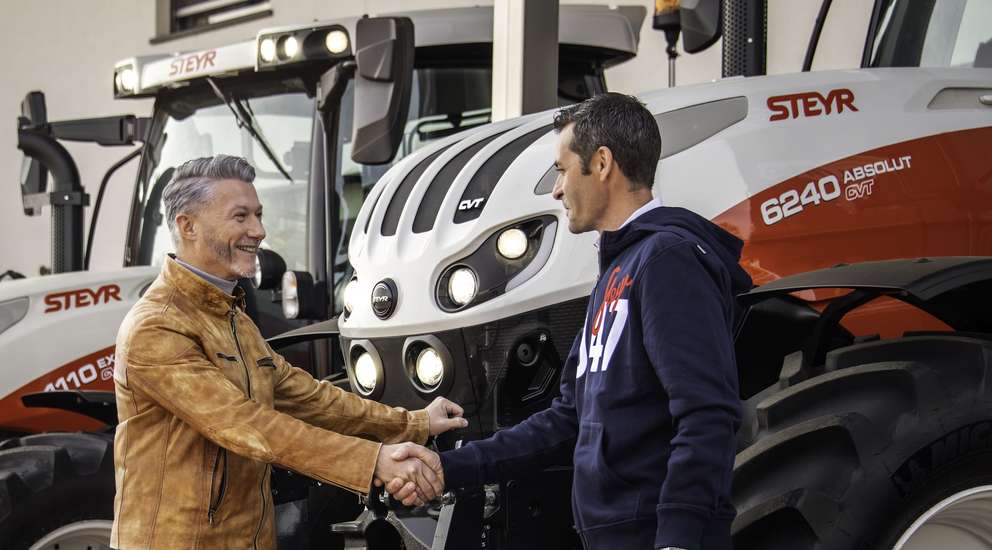 Services
Service solutions for your farming
From the very first stages of every model's development, we think about how best to provide aftersales services for your STEYR product.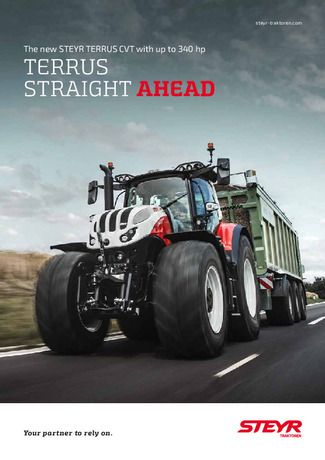 Terrus_CVT_2023_EN.pdf
3.83MB