Your partner to rely on when you need a multipurpose tractor.
The STEYR MULTI is the most versatile, innovative and efficient tractor in its class. Developed in cooperation with farmers and manufactured in the Lower Austrian town of St. Valentin, the MULTI positively exudes fresh design concepts and an unrivalled level of comfort. Powerful, flexible and in every respect 'Made in Austria', it is ready to face your challenges - around the yard, in the field, on steep slopes, for arable farming and livestock farming. The tractor comes with an usually luxurious and quiet cab, which together with the front axle suspension and the Multicontroller armrest delivers additional benefits in terms of driver comfort and convenience.
Connected in every aspect
Explore the product
The STEYR MULTI is user-friendly and ensures outstanding operator comfort thanks to the cab suspension and the air suspended seat. The controllers for powershift points and the three-stage switch for shuttle aggressiveness levels are located on the Multicontroller armrest for maximum comfort and safety in all situations. All models come with luxury cab features similar to those on their larger siblings, including floor carpeting and leather steering wheel, and adopt the styling of other new STEYR tractors.

The MULTI series is equipped with hydraulic and air trailer brakes to increase braking performance with heavy loads to remain safe in hilly conditions. For enhanced visibility, it also features 12 LED work lights providing superior visibility at night and a wiper with a 200° wiper range.

Powered by a 3.6-litre FPT F5 four-cylinder engine, the MULTI's engine features compact Hi-eSCR2 emissions after-treatment technology that integrates a diesel oxidation catalyst, a maintenance-free diesel particulate filter and selective catalytic reduction in a single unit arranged under the hood for excellent operator visibility and vehicle manoeuvrability. Maximum torque is reached at 1,300rpm for increased load response and start ability.

Thanks to the automated 4-stage powershift transmission with Power Clutch and 32 x 32 gears, 40 kph at 1,730 rpm is achieved at Eco mode to improve efficiency. 13 gears in the main working area ensure greater efficiency and versatility. Both the gear change time and shuttle aggressiveness levels can be programmed. Operation is simple and user-friendly on the Multicontroller armrest.

The rear hoist and hydraulics on the MULTI do great things. The rear hoist features Electronic Hoist Control (EHR) and a lifting capacity of up to 5.6 tons. An axial piston hydraulic pump (CCLS) with a displacement of 80 l/min or an axial piston hydraulic pump (CCLS) with a displacement of 100 l/min are available with mechanical or mechanical plus electro-hydraulic rear remote controls. Depending on requirements, the MULTI can also be fitted with two additional control units for front loader attachments.

The STEYR MULTI is all geared up for loader work and can be ordered with loader-ready. With its axial piston hydraulic pump with variable displacement and the two optional electronic hydraulic valves, the Multi is perfectly suited for use with a front loader. The control joystick is integrated in the armrest's right control console and allows precise handling while the high-visibility roof and the slim-line pillars ensure you can keep an eye on everything.

Thanks to its low centre of gravity, short wheelbase and its equipment, the MULTI is just at home in the mountains with outstanding performance on slopes.

The Electronic Front-mounted Hoist (EFH) and the front axle suspension help delivering greater traction and constant pressure when working on hillsides, but also ensure greater stability for more safety.

The STEYR MULTI proves how compact and versatile a tractor can be. They are powerful enough for tough loader and mower jobs as well as working with heavy mounted equipment, while at the same time featuring a low centre of gravity and excellent manoeuvrability on every terrain.

Build your own
Find your perfect STEYR in a few steps with the Configurator. Build the STEYR you want and select the options that will make it perfect for your daily operations.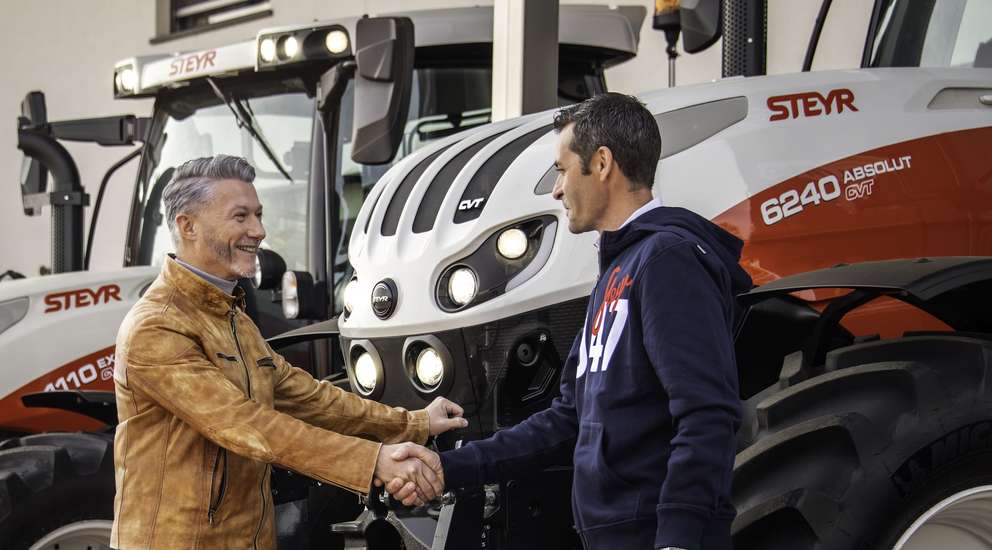 Services
Service solutions for your farming
From the very first stages of every model's development, we think about how best to provide aftersales services for your STEYR product.
Engine

Number of cylinders

Type

Emission Level

Capacity (cm³)

Engine Performance

Standard Transmission

Optional Transmission 1

Optional Transmission 2

Power Take Off

Front PTO and hitch

Drive and Steering (Driveline)

Hydraulic System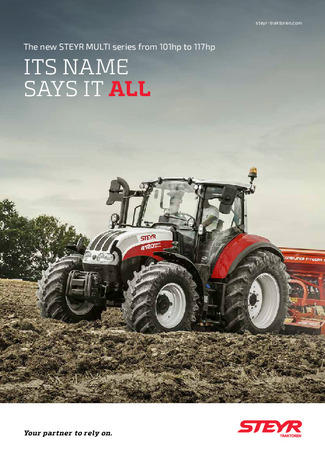 STEYR Multi Brochure
0.72MB